BLACK BEAR HUNTING IN NEW BRUNSWICK CANADA WITH HUNT N IT OUTFITTERS
ABOUT HUNT N IT OUTFITTERS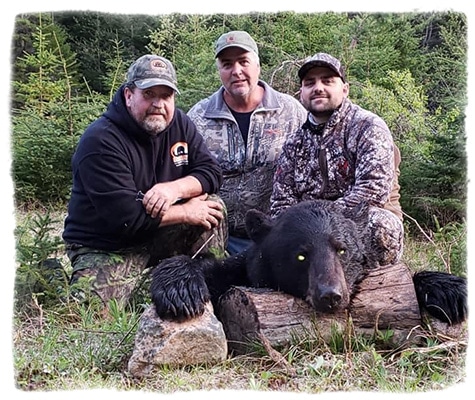 Kevin & Laurie Barber would like to welcome you to HUNT N IT OUTFITTERS INC operating in Upper Knoxford, New Brunswick Canada! Our outfitting business was established in 2013, we are EXCITED, DEDICATED and COMMITTED to providing you with a top notch Black Bear Hunting experience.
After 33 years of Law Enforcement Kevin along with his wife Laurie retired from Ontario, Canada to the bear rich province of New Brunswick and have established an outfitting business specializing in spring and fall Black Bear hunts. Kevin since 2000, has been traveling to New Brunswick in preparation of providing World Class Black Bear Hunts at HUNT N IT OUTFITTERS.
Kevin is a licensed Professional Guide in New Brunswick with over 47 years of hunting experience and has been fortunate enough to hunt in numerous provinces and states, successfully harvesting big game using bow, rifle, muzzle loader and cross bows. Kevin has utilized the services of guides/outfitters while on these hunts "he has been there and done it" and as a result "knows how to do it right" and is looking forward to applying what he has learned for his clients at HUNT N IT OUTFITTERS INC.
OUR GOAL is to provide world class Black Bear Hunts with top notch accommodations in an at home atmosphere, and we want you – to want to come back!!
The Province of New Brunswick is approx. 17,000 sq km, the most current Black Bear Population Estimates are in excess of 16,000 bears, the 2019 NB Big Game Harvest Report indicates a general non resident success rate at 55%, at Hunt N It Outfitters we have an average 98% shot opportunity and 85% harvest rate since 2014.
Whether it's your first black bear hunt, or you are looking for a change to an outfitter with a fresh, honest, enthusiastic outlook on New Brunswick Black Bear Hunting, HUNT N IT OUTFITTERS INC. is here for you! Click Here to Book Your Hunt with us.
BOOK YOUR CANADA BLACK BEAR HUNTING TRIP TODAY!
Have questions for us?
Use the Book a Hunt button below and we will be in touch to help answer any questions you have.