NEW BRUNSWICK, CANADA BLACK BEAR HUNTING CAMP
ABOUT OUR HUNTING CAMP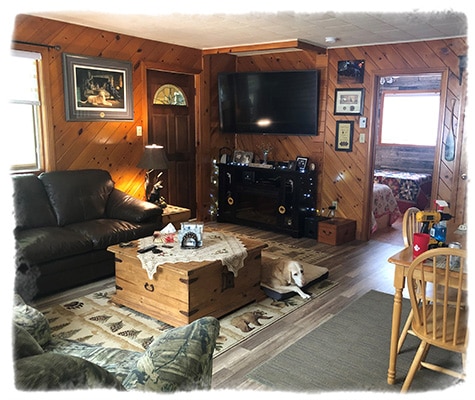 Our hunting camp is Canada Select Approved and located west of the St John River, less than 800 yards from the Maine border, we are in the shadows of Mars Hill Maine. It sits on 5 acres of woods, we have had moose and bear in our dooryard. We are surrounded by the Appalachian Mountains with some spectacular scenery.
The cabin offers you two bedrooms, a bathroom, living area with 65″ TV and wifi internet. There is an enclosed porch to sit back and relax in while enjoying the natural surroundings. Detached from the cabin is a large double climate controlled garage, there is a hunters lounge, a place to hang out, there are darts, a TV equipped with a DVD player, table and chairs. It's also equipped to store your weapons, hang and dry out hunting clothes and boots so as not to clutter your bedrooms. It's also where we skin and process the bears in a climate controlled environment.
We have an enclosed fire pit for campfires day or night, always a good time by the fire. There is a walk through 3D archery range for our bow hunters spread out over our 5 acres with some challenging shots. Great way to practice and spend your free time. Lots of space for just walks in general to enjoy the outdoors during your down time.
There is no doubt our camp setting will give you some peace and quiet, and get you prepared for your day's hunt.
Our goal is to have you "want to come back" and our camp and surroundings that becomes "your camp" combined with our professional, honest outfitting service is how we will accomplish that!