BLACK BEAR HUNTING IN NEW BRUNSWICK, CANADA WITH HUNT N IT OUTFITTERS
SPRING AND FALL CANADA BLACK BEAR HUNTS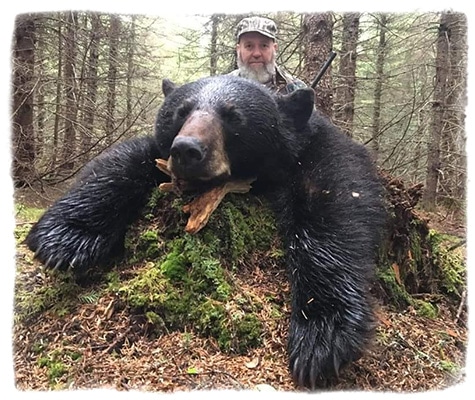 Our Spring and Fall Black Bear Hunts will take you into the backwoods of Northern New Brunswick. Access to stands can be by vehicle or ATV through some of the most spectacular country side in the Appalachian Mountains. Spring baits are established as soon as the winter break up has taken place and the woods can be accessed and Fall baits are started in Mid August. All bait sites are monitored with trail cameras and you will be put into stands with the best activity. Using baited sites, it allows you to have the time to determine the size of bears and the sex of the bears (both boars and sows can be harvested as long as the sow does not have any cubs). Prior to hitting the stands Kevin will go over with you some fundamental ways of determining the weight of bears. Archery Stands will be set at 15 to 30 yards from the bait site, rifle/ muzzle loader will be set 30 to 60 yards in both cases depending on terrain and cover. Both tree stands and ground blinds are utilized.
During the mornings hunters have access to our creeks, brooks and the St John River for fishing, the St John River has world class SmallMouth Bass and provides for some great action. Non resident angling licenses are available online and can be issued right at the camp.
WHAT YOU GET:
Spring Hunt opens April 21st, we hunt May and June
Fall hunt starts the beginning of September, we hunt first three weeks, then the first week of October.
5 Days of hunting, Mon to Fri, arrival is Sunday after 6PM and depart Sat by 9AM
We can offer a second bear license at an additional fee
Weapon of choice for your hunt
You will hunt baited sites, compound bow hunters from tree stands, gun and crossbow hunters from ground blinds
Transportation to and from stands, we stay with you in the woods and supply radio communication
Cleaning, skinning and cold storage for bear
Registering your bear and supply export documents
Canada Select Approved Lodging at our camp
All meals and non alcoholic beverages
Towels and bedding supplied. One or two hunters per bedroom depending on the size of the group
The two closest airports are Presque Isle and Bangor, Maine or Fredericton, NB, while pick up can be arranged for a fee we encourage our hunters to look into car rentals.
25% non-refundable deposit is required to reserve a hunt.
All hunters must sign hunt contract prior to starting your hunt.
Call 360-464-5315 or email Kevin for Bear Hunt pricing and availability.
WHAT YOU NEED TO BRING:
Hunters must get a NB Outdoor Card and complete your online profile to ensure we can issue your bear license once you are in camp.
Bow, Rifle, Muzzle Loader, ammo/arrows, gun/bow case
Passport
Hunting License from your home state/province, archery hunters must bring proof of a previous archery only license/tag to get an archery included license.
Canada Firearms License, see links page for access to the Canada Firearms Center
Range Finder
Insect Protection – clothing/sprays (we suggest Thermo Cell units)
Personal Fall Arrest System – no exceptions
Camo Clothing – temps can range from 10-25C
Waterproof Boots
Light tackle angling gear and waders, if you plan on fishing
*Deposits are required to confirm all reservations, they are none refundable, under certain conditions can be applied to another mutually agreed upon date.